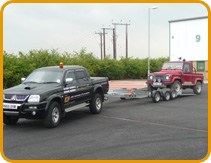 24-hours per day, 7 days per week, rain or shine. If your car breaks down and you need to have it collected and taken to your home, your preferred repairer or to our workshop facilities for repair then call JRC Motors on 01665 606915 during opening hours or on 07545 922081 outside of opening hours. JRC Motors is open from 8am to 6pm Monday to Saturday
We'll get you where you need to be or get you back on the road just as soon as we can.

And if for some reason your vehicle needs to stay overnight with us then you can be assured that it will be kept under cover, secure and insured.

Our charges are clear and very competitive:

Garage to vehicle recovery location: £0.50 per mile.
Winching charge: £40.
Vehicle recovery location to destination: £1.00 per mile
Destination back to JRC garage: £0.50 per mile (only applicable if destination was not JRC Motors garage).
Minimum Charge: £50.
Same charges apply for caravan / boat / trailer recovery (excluding winching charge)
Weekend and out-of-hours surcharge + 50%
Overnight storage: £12 per night per vehicle / caravan / trailer.
Vehicle recovery on the instructions of the police: £105 + storage charge
Insurance: included.
All prices subject to VAT at the current rate.