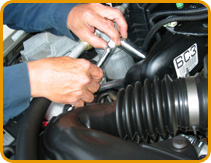 We do a lot more at JRC Motors than
Servicing
,
MOTs
, tyre fitting, new batteries, clutches and exhausts. In addition to regular maintenance and essential minor repairs to keep your car running, our technicians also undertake major engine overhauls ranging from new cylinder head gaskets to full engine replacement, as well as full or part suspension repair and/or replacement. Whatever you need to keep you on the road, JRC Motors will do it with minimal fuss and, more often than not, for a lot less than you might think. And if your car is immobilised then you can also arrange for us to collect it using our
recovery
service.
Our approach is clear and simple:
You tell us the problem(s) you have encountered; we inspect your vehicle to confirm the work we believe is required and we agree with you, in advance, the work that you want us to carry out.
We keep you fully informed of progress and if we encounter any further concerns during our repair work we will let you know as soon as possible.
We will not carry out any additional work without your agreement, so you can be certain that there'll be no unexpected surprises.
You will receive a high quality, fast and friendly service.
We don't use jargon - we'll explain everything in clear and concise terms and answer any questions you have.
If you opt to wait while tyres, bulbs, exhausts, etc. are fitted then we'll offer you a clean, friendly and welcoming environment with free tea or coffee.
You pay for the agreed work when you come to collect your vehicle.
Our
location
is central and is easy to reach, with adequate parking. If you need to keep on the move while your car is being serviced or repaired, whether it's just for an hour or two or even longer, we also offer a courtesy car that can be pre-booked*.
When you come to collect your vehicle we'll also provide you with a written 50-point Visual Healthcheck, highlighting what requires urgent attention, what is advisory and what is visually OK. And it's FREE.
* subject to availability